Tennessee TVG Racebook Review & Bonus Code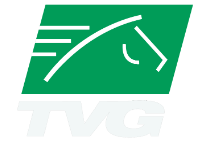 Deposit Bonus of 50% up to $250
Screenshots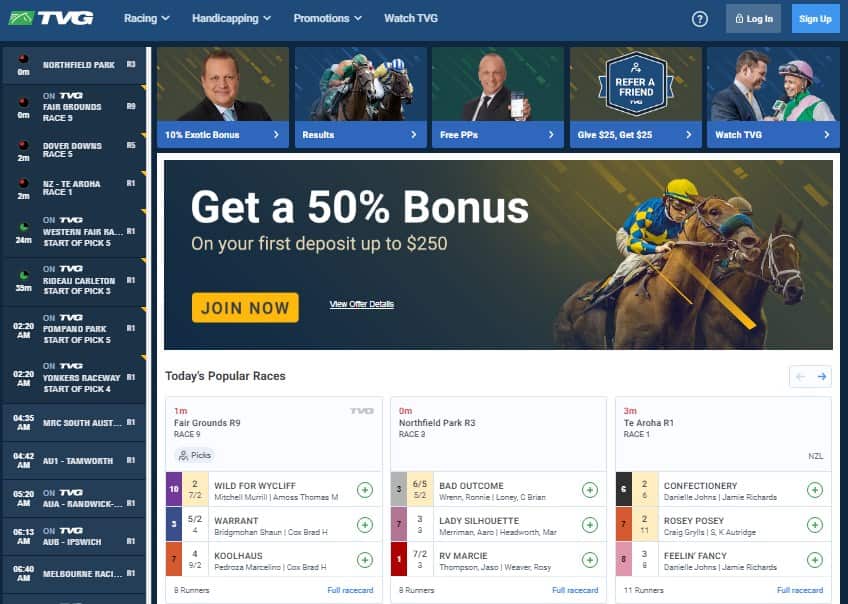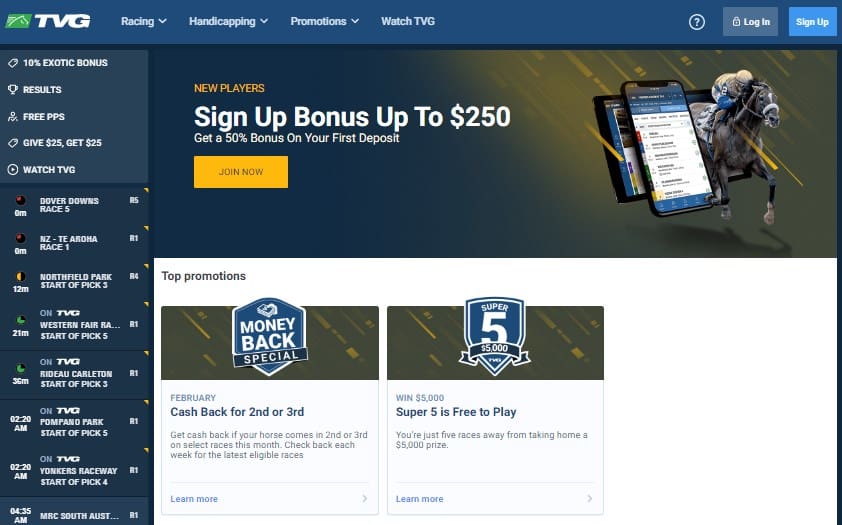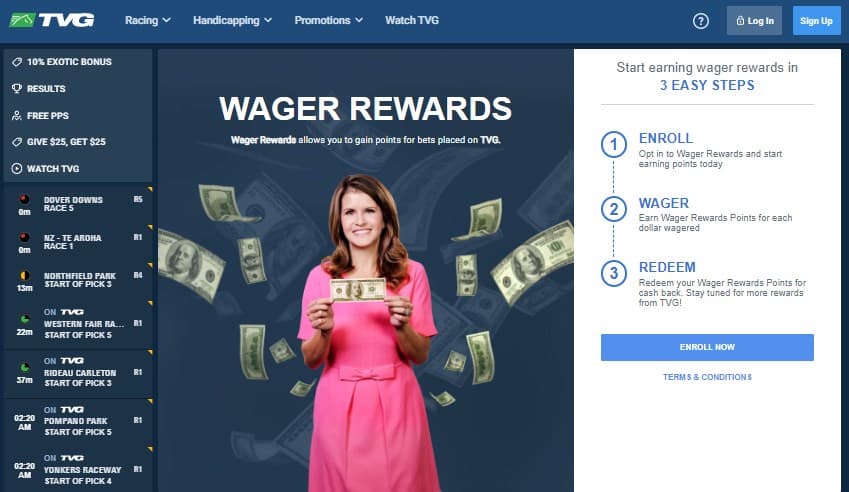 The Television Games Network, also known as TVG, is one of the most remarkable names in the horse racing industry. Besides telecasting all the details on horse races, they are the best online betting sites in the state of Tennessee. The legal race betting site allows you to wager in 150 tracks while streaming the horse races live. It happened after the Supreme Court banned the Professional and Amateur Sports Protection Act (PASPA) in May 2018. Tennessee is the fourth state to sanction online sports betting in 2019 after House Bill 1 was allowed by Governor Bill Lee to become a law. After that, in November 2020, many sportsbooks were made available to the citizens.
In this Tennessee TVG review, we want to say that after attaining 21 years, players can go for online sports betting. The company has been involved since 1993 in horse races and is now licensed and Regulated by the Oregon Racing Commission. Acquired by Betfair recently and the TVG race betting in Tennessee is a suitable choice for fans who love watching and betting on horse races.
Go through this Tennessee TVG review to know what you can experience on the US betting site. Once you have gathered the required information on the Tennessee TVG bonus, betting app, live betting choices, etc., you do not need to look for details every time.
TVG Promo Codes & Bonuses
New and existing players receive great bonuses on this platform. It can be the first real money bet, risk-free first bet, welcome bonus offers, etc. In this TN TVG online review, we are discussing the variety of bonuses being offered.
✔ The Best Welcome Bonus
Enthusiasts interested to wager on horse races can visit TVG directly in Tennessee and sign up for mobile betting accounts. It is an exclusive new player welcome bonus with a promo code of LSRTVG. Get 100% up to $300 on the Breeders' Cup. When you use the bet, and in case you lose, the website will refund you $300. You can avail of it after signing up on the website. It is known as the best welcome bonus because it does not come with any wagering requirements, unlike any other racebook.
✔ Refer-A-Friend
It is a common type available on all websites, but the terms and conditions or the variety of the bonuses can vary. On this betting online website, when you refer your friend to sign up, you get a referral bonus, and the value of the bonus can change. Currently, the amount is $25, and you can get it only after your friend has made the first deposit within six months.
✔ Wager Rewards Program
In the TVG app, get a loyalty point for every dollar wager. But it is possible to earn loyalty points only if you become a member of the Wager Rewards Program. Two possibilities are there to register; one is you can directly visit the website and enroll, and in the next one, call up the customer service and ask for the enrolment.
Additionally, if you have earned some points, and for six long months, you do not play on the platform, they are no longer available. That's why; you should continue wagering to redeem the points. When you have earned 2500 points, get a $5 credit.
✔ Seasonal Promotions
The seasonal offers are given depending on the horse races going on. It shows that TVG wants that they should always be the players' choice. One more offer is available here, and it is known as Money Back Specials. It is also a seasonal offer, and the bets can be used on particular horse races only. Sometimes the website also gives cashback bonuses depending on how frequently you bet through the racebook.
✔ Free Past Performances
It is a great offer, but to enjoy it, first sign up for the program. On the same day, you will receive the bonus in your gaming account.
✔ Contest Bonuses
The contest based bonuses are like Super 5 or Super 8. Predict the winner of eight or five races based on the bet you have chosen. If your predictions are correct, you get to win higher potentials.
TVG Wagering Types
Do you know the wagering types available on TVG to start betting? Many are there, and a short description of the bonuses is given here. Remember that you learn all of it. So that when it comes to placing a bet you are not confused about it.
Win: Simply pick up the horse you think will win today's event and take the price home.
Place: If you are not confident enough which horse will win but is sure that if not first, it will end up being second, go for a place bet.
Show: For a show bet, the risk reduces as your bet can complete in any of the top three ranks. It is extremely popular as the chances of winning are higher even though the payout is comparatively less from a show and a winning bet.
Exacta: It requires skill as you must choose both the horses that will finish in the first and second position in chronological order. Similar to that, some other bets are there, like Trifecta and Superfecta. But the number of horses increases with the wagers. For the trifecta, select three horses that will finish as top three, and for Superfecta, it is four. The common thing in all of them is the order must be correct for you to win.
Quinella: Choose two horses that you think will finish in the first and second position, irrespective of the order. You can only take the price home if you get it correct.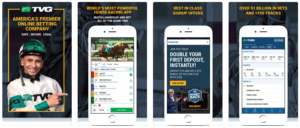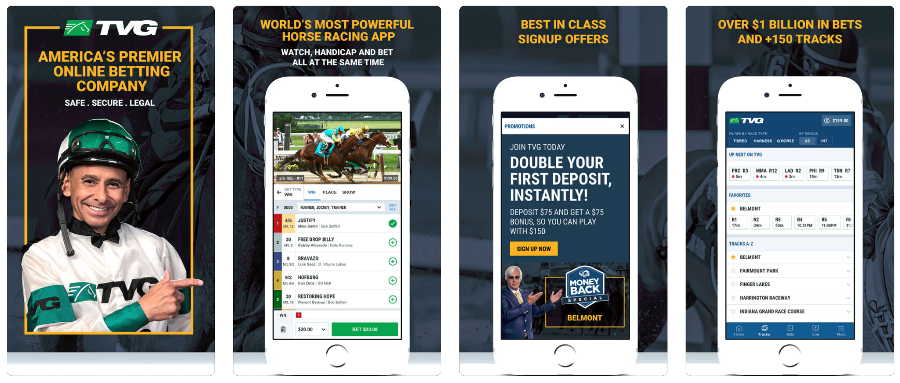 TVG Mobile Apps
If you wish to opt for betting while on the go, use the TVG Android app. IOS users can get the app downloaded from the Apple Store, and for Android devices, an external link is there on the US racebook, as Google Play Store does not allow gambling. The mobile app has a user-friendly interface and great features. The signup process is also simple, and by entering the required information, you can go ahead with the app.
There is no difference between the web and mobile browsers, so players will not face any issues when they shift. Additionally, the transaction facilities available are the same, and the website is secured. All your transactions are encrypted, so there is no choice left for hackers.
Banking Options on TVG Racebook Every website has a list of banking options through which transactions are made. All the methods available can be accessed at any time as per your convenience. The methods available are BetCash, Green Dot Moneypak, debit and credit cards, wire transfer, PayPal, prepaid cards, cash, money orders/checks, etc. Through MASTERCARD and Visa, you can make transactions of the amount of $5000, and the limit can be increased later depending on your card. In BetCash, the amounts of the deposit that can be made are $2000, and in Wire Transfer, it is $1,000.
Customer Service Section
In any in-game live betting website, you will come across a skilled and professional customer service section. The TVG customer service can be contacted in two ways; email ID and phone number. 1-888-752-9884 is the TVG horse racing phone number, and the email ID is [email protected]. Simultaneously, the mobile racebook operator has a FAQ section with all the questions and answers, which can resolve queries regarding TN promo codes TVG, deposit, rewards for race bets, etc.
Most importantly, many things are there in this section, like blogs, details about international tracks, upcoming tournaments, expert analysis, the TVG handicapping menu, free past performance programs, etc. All such things will give the added information that can guide you to increase the chances of winning. It is a unique section available only on the best legal sports betting site through which players can enhance their betting skills.
Latest News
During the time of the pandemic, TVG has partnered with NBC Sports to telecast the horse sports updates for a dozen hours every week. It will help the industry to stay afloat in hard times.
Signing Off
TVG has a good reputation in the market, and every player has to say something positive about the racebook. The bonus code, odds for each race, higher betting limits, a great app, etc., can be enjoyed on the platform. It is a scam-free website, and various transaction methods are also available. If you are residing in TN and looking for a licensed horse racebook, go with TVG.
Frequently Asked Questions
Is TVG online racebook legal in Tennessee?

Yes, it is legal. The racebook has permission to operate in Tennessee after online betting got sanctioned in various parts of the United States. It happened in May 2018.
How can I watch horse races in Tennessee?

Watch on Roku, YouTube, on television, and TVG. Ensure that you bet on the horse races so that you gain some profits while playing. It's a great way to earn some money while enjoying the races.
Is there an IOS app on TVG?

Yes, both IOS and Android apps are there. The app makes it more comfortable to watch the match and wager. The app looks similar to the web browser, so you can play on whichever you want.
Is greyhound betting available in Tennessee?

Yes, it is. The best wagering site will give you options to bet, but before that, you must sign up. The process of registering is simple, and once you have completed it, you can play.